Morphology, in biology, the study of the size, shape, and structure of animals, plants, and microorganisms and of the relationships of their constituent parts. The term refers to the general aspects of biological form and arrangement of the parts of a plant or an animal ( Wikipedia).
Inspired by the structures found in nature, inside or outside our bodies, on earth or outside in the big space, I started out drawing, never knowing where it would take me before it was done. No way back. After finishing a plate, I prefer to make the printing process a new exploration, searching for the soul of the image by using chine collé, making each print different from the others.  
Normally I print on white paper with darker inks. Here it is turned around, printing on black paper with white ink.
Technique: carborundum with drypoint and chine collé. 
About: starting up this series I needed to stay in the print for a while, just taking it all down to low speed, focusing on details while building up the picture, piece by piece. Some main structures were sketched up on a sheet of paper. Placing my plastic plate on top of the sketch I started to paint with glue/acrylic medium. Some of the shapes were sprinkled with carborundum powder, while others were left with only the glue. Then I started playing around, filling in with details made with drypoint and engraving tool.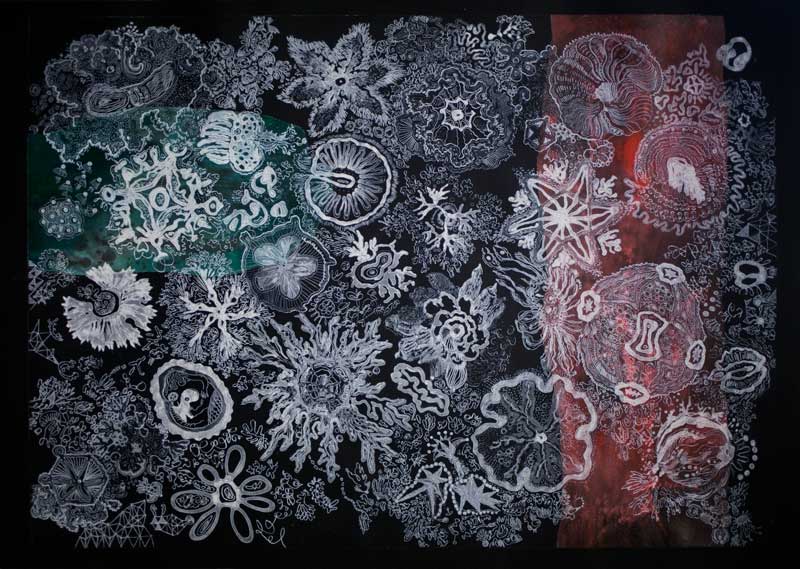 70 x 100 cm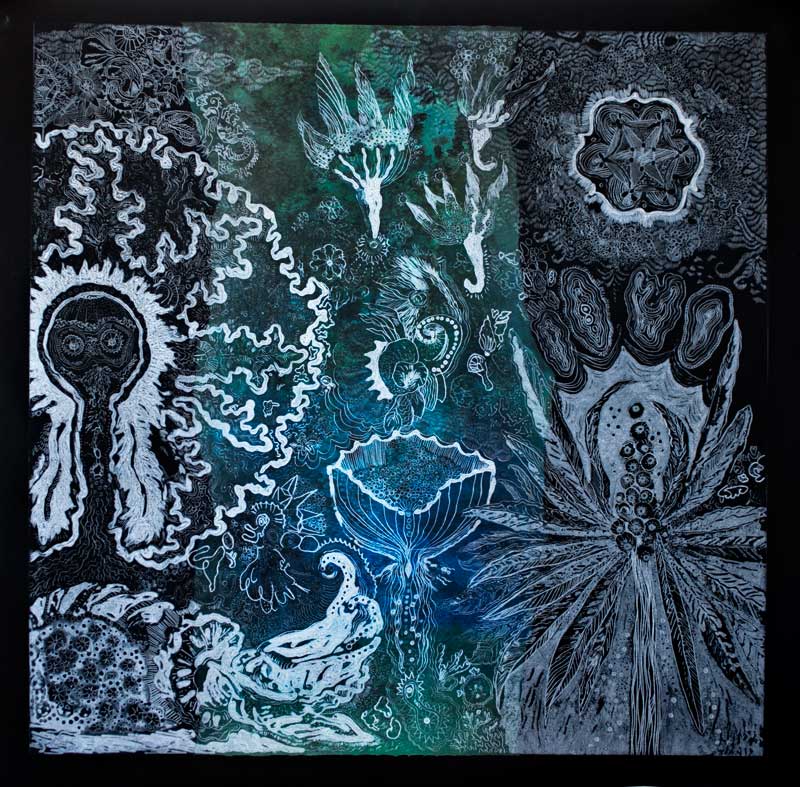 70 x 70 cm 
"Nature´s Spirit". This picture still makes me wonder. What kind of information is it revealing, and how can I bring this with me on a new journey, into a new print? I started out without any sketch. Just my tools and the plate, a lot of curiosity and a strong vision. That's what I need to start the dialogue with the plate, trusting what comes up during the process, and relying on the unexpected. 
The work was showed at IPCNY (International Print Center New York) in the exhibition MULTILAYERED (June 26 – September 22 / 2018). The exhibition was selected by Juan Sánchez. The 43 prints and print-based works on view in Multilayered reflect Sánchez's interest in new narratives for an increasingly hybridized cultural world. I am proud to be a part of it.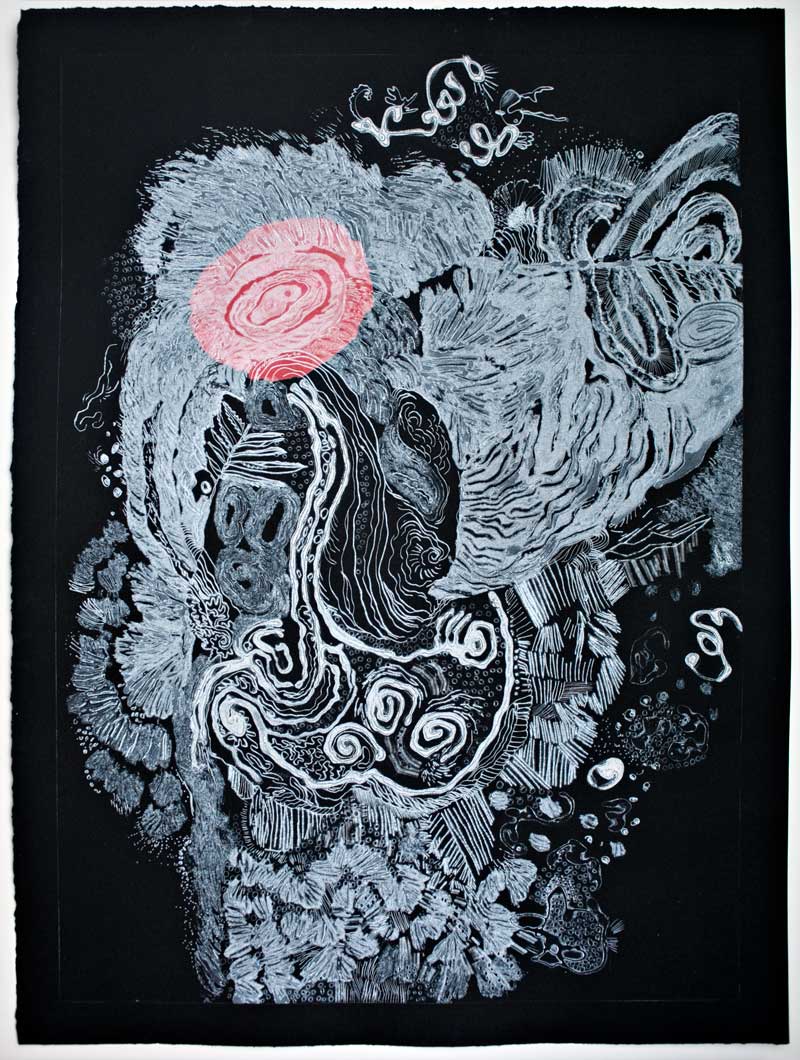 50 x 70 cm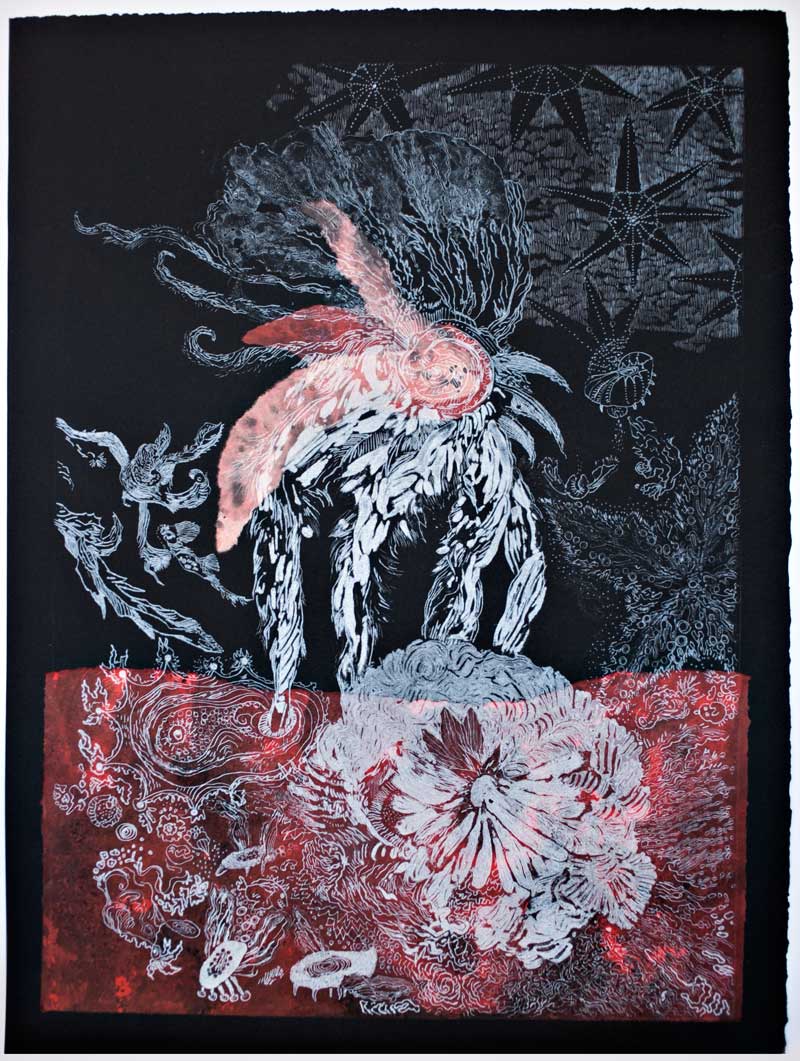 50 x 70 cm