CARBORUNDUM – CHINE COLLÉ  and some drypoint
My featured picture for this post shows "Nature´s Spirit". It contains it all; carborundum, drypoint and chine collé. The print was done without any sketch, just starting out painting carborundum, following up with drypoint/engraving. It was a journey of the unexpected. And still, looking at it afterwards I recognize it all. I feel I have carried this image inside, and now I had helped it out by not limiting it´s existence by forcing my plans upon it. It is raining today. Soon fall will be here, and I will close down my outdoor paper studio and join my friend Ferdinand Mypress again. Cannot wait to return to this landscape.
Right now a black/blue version of "Nature´s Spirit" is hanging in New York at IPCNY (International Print Center New York) where I am participating in the exhibition MULTILAYERED (June 26 – September 22). The exhibition was selected by Juan Sánchez. The 43 prints and print-based works on view in Multilayered reflect Sánchez's interest in new narratives for an increasingly hybridized cultural world. Still time to visit if you happen to be in New York.
Back to the topic! With focus on the combination of carborundum and chine collé I will take you through my approach to the process. There certainly are many doors to this fabulous universe. Join me on my journey.
COLLAGRAPH – CARBORUNDUM
One way of making collagraphs is by use of carborundum glued to a plastic plate.
First step; degrease the plate to prevent the carborundum from peeling off.
The glue/acrylic medium can be painted on, and carborundum sprinkled on top, or you can mix glue and carborundum in beforehand. Different mixes to achieve the strength you want. While still wet the mix of carborundum and glue can be drawn into with different tools. It can be scraped away, or wiped off with a Q-tip or a rag, or just use the back of your brush. Very detailed reduction drawings to achieve white lines will not work, as the ink will fill in the lines when printing.

Above: Testing tonality of the mix of carborundum and glues, and different methods and applications (and chine collé).
I enjoy painting the carborundum mix on freely with a wide brush, letting the action be part of the finished work. Sometimes I draw with glue directly from the bottle, sprinkling the carborundum on afterwards. Do not wait long, as the surface of the glue must be open to let the carborundum powder sink in. You can also leave the glue as it is, without any carborundum. The ink will then stick along the edges. I like the freedom and the unpredictable things happening on the surface, making signs and textures I could not achieve with other means.

Above: print on washi made for use as chine collé
Below: To contrast the carborundum I will normally add drawings with drypoint or electrical engraving tools. The drypoint is giving the soft, feathery line mixing in with the carborundum. The engraving tool adds more clear lines.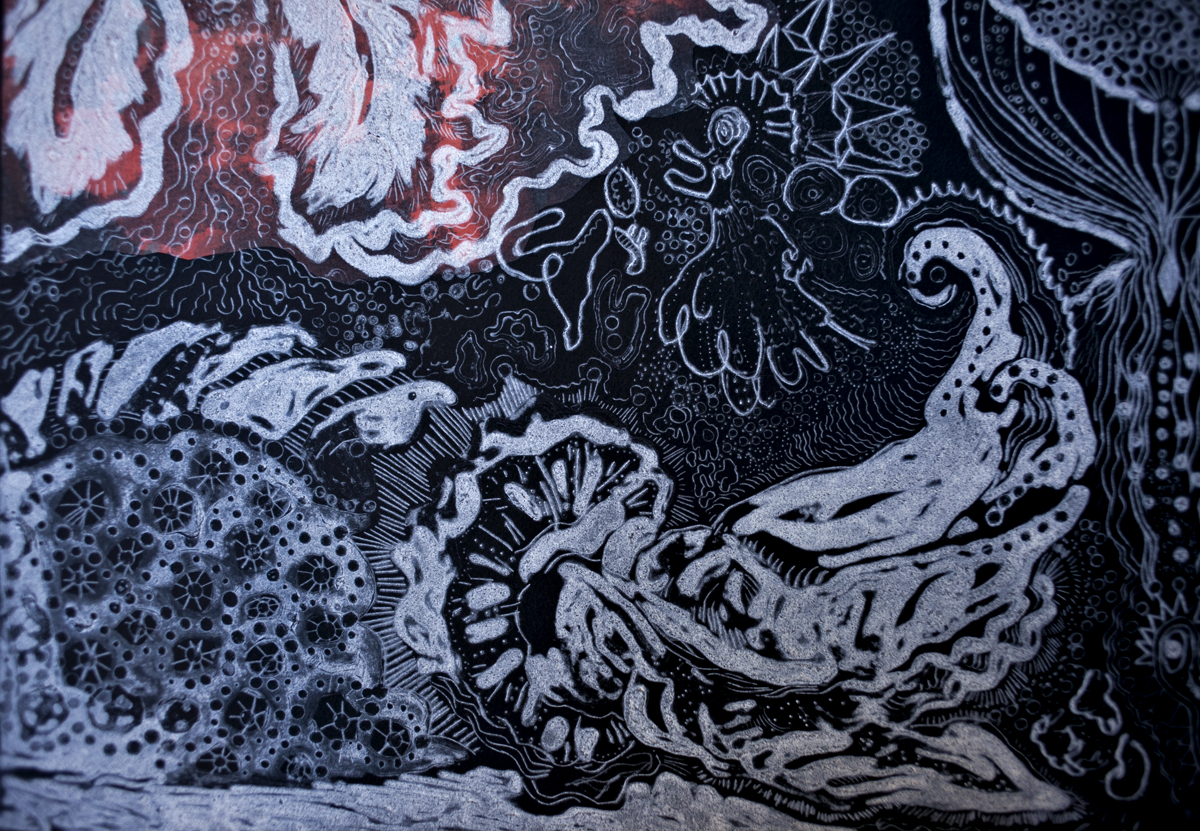 Plastic plates are ideal for both carborundum, drypoint and chine collé. The material is lightweight, it is cheap, and the transparency makes it easy to plan your collage.                                                              If you work on fairly thin plates they can even be cut to shape by use of scissors. For large size plates either choose a thicker plastic, or you will have to handle it carefully so they don´t bend, and the carborundum cracks off.
The finished print can be based on one single plate containing the image, or it is built up by use of several cut outs, assembled and printed together.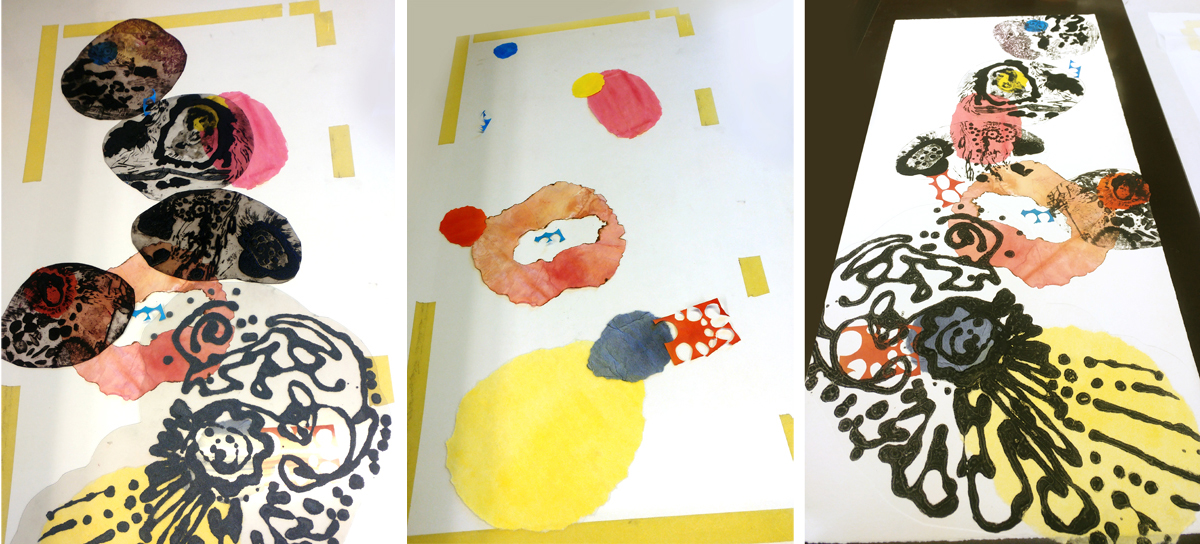 Above: To the left I have placed 5 different plates on top of chine collé papers for planning. When working in series with separate plates it is practical to make marks on the printing board, to make sure you get the plates and the papers right.
On the right the finished print.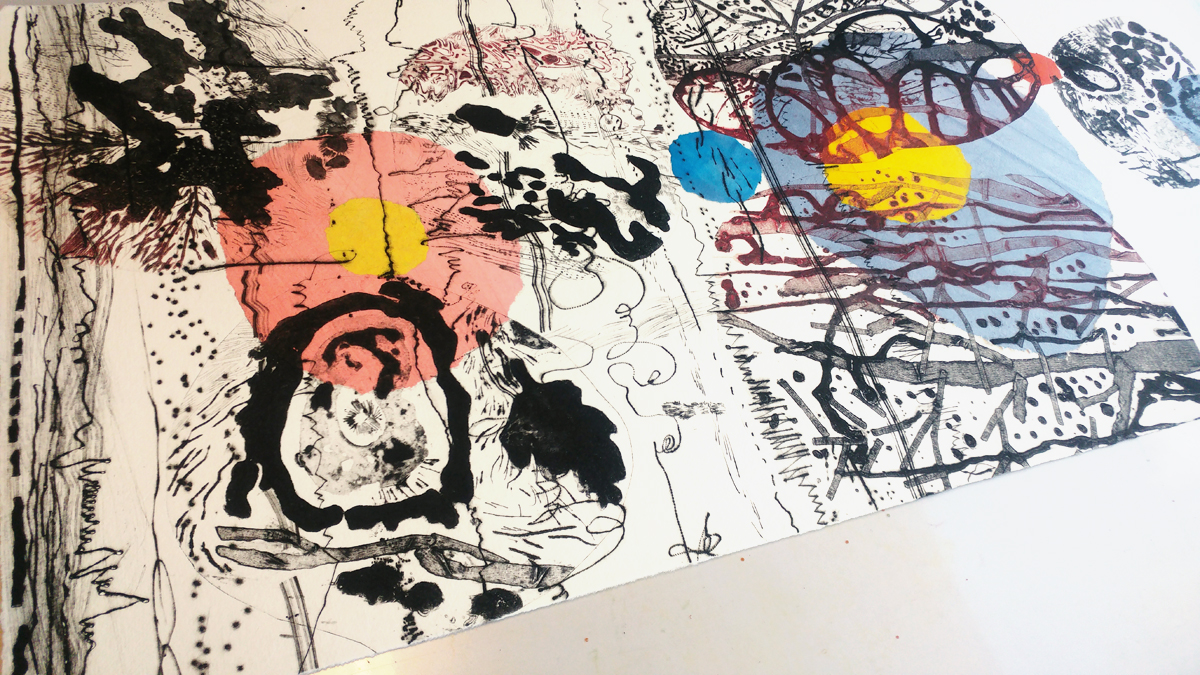 Above: Detail from one of the pictures from the same series as above
"PLAYGROUND"

One great advantage with working on plastic is that you can actually see what you get when collaging your chine collé. It makes it easy to try out different colours and shapes, moving them around.
 When working in several layers it is easy to lose track. Keep your mobile phone close to  help remembering. I mostly use Japanese washi. Some of the papers looks very delicate and fragile, but they are stronger than you might think. I spray the cut outs with water and leave them between newsprint. When I am ready, I just dust on dry glue powder. Very easy to handle, and layered towards the damp base paper they will stick perfectly.  
Another version of the print "Playground" on Arches velin noir.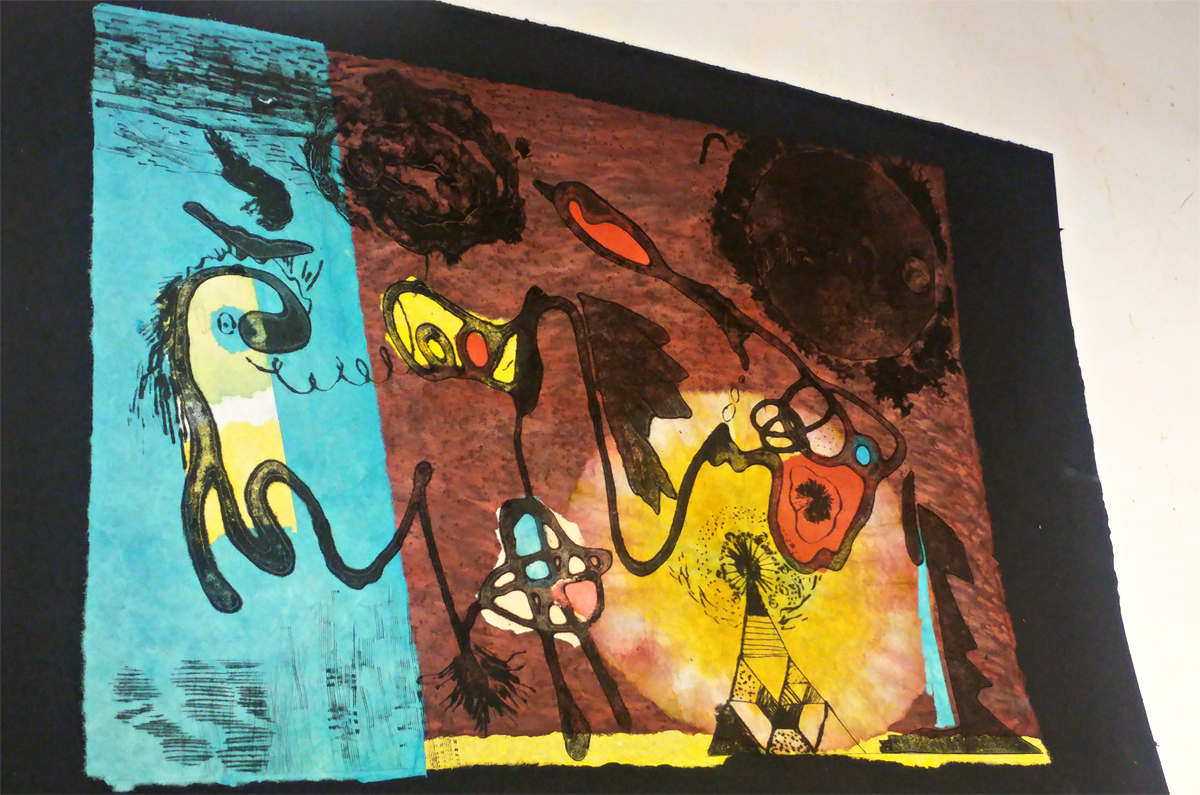 Below: Same process – new image "Dreamcatcher". Some of the black areas are not carborundum, but sandpaper glued to the plastic. It works like a smooth aquatint.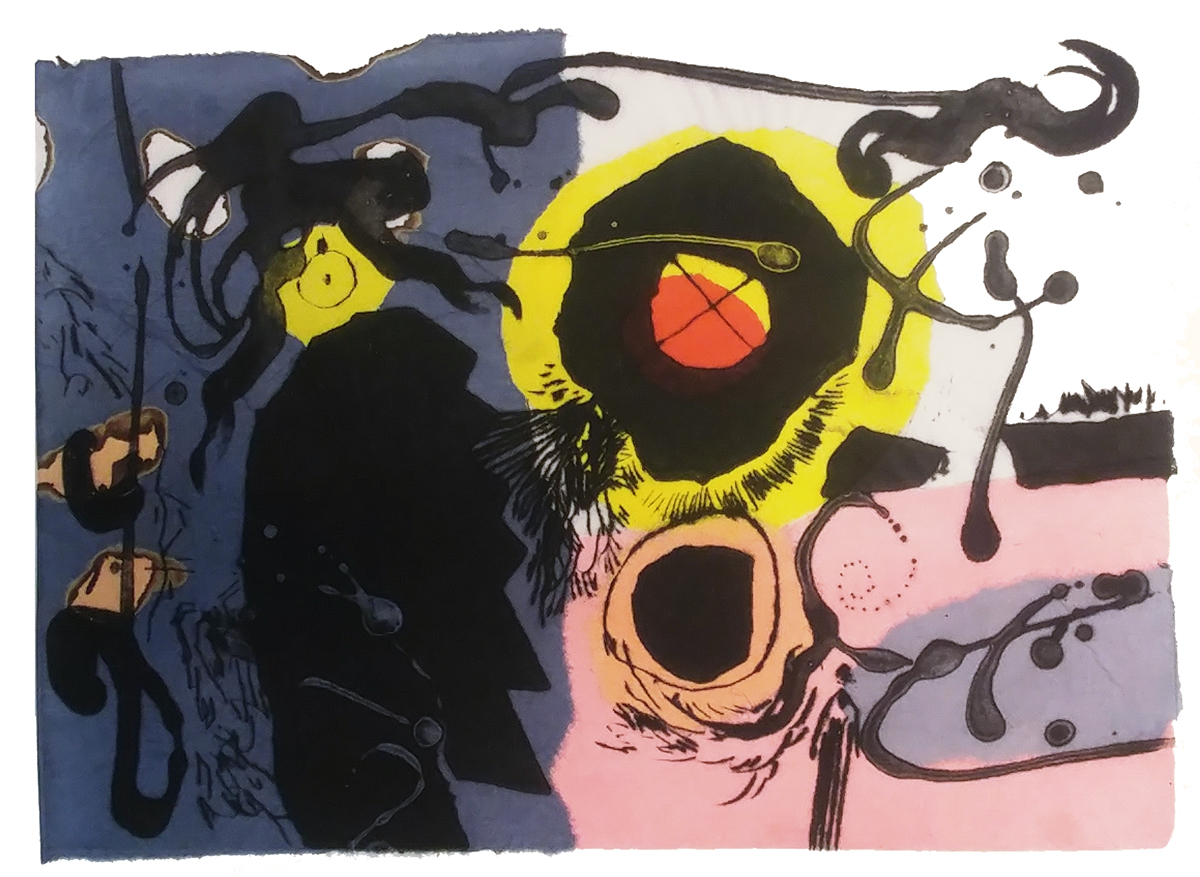 Printing:
Inking up the carborundum plate is different from inking and wiping an etching. Sometimes the surface is course, and you need a softer ink to make sure you do not leave out uninked areas.               I normally add the ink with a thick, round and pretty stiff brush. Those made for stenciling are good, but you can also cut back an ordinary painting brush.
Wiping: For the wiping I go over the plate with tarlatan, and then finish with newsprint and silk tissue. Some areas will need to be cleaned by a Q-tip, depending on the roughness of the surface.   Do not overdo the wiping. Especially if you have marks of glue without carborundum, they will be very delicate. If you experience that the glue sticks to the paper when printed, you probably have wiped it too much. A thin, oily film of the ink left on the surface will prevent sticking and tearing.
PAPER: For carborundum I will normally use a sturdy western paper. Especially when adding large areas with chine colé I need a strong backing paper. For chine collé washi is definitely the best.          It is strong and thin, and melts into the base paper.
Below: Carborundum can be printed either black (or any colour you like) on white or pale paper, or as below with white inks on a dark paper.  Picture showing the print being lifted off the plate.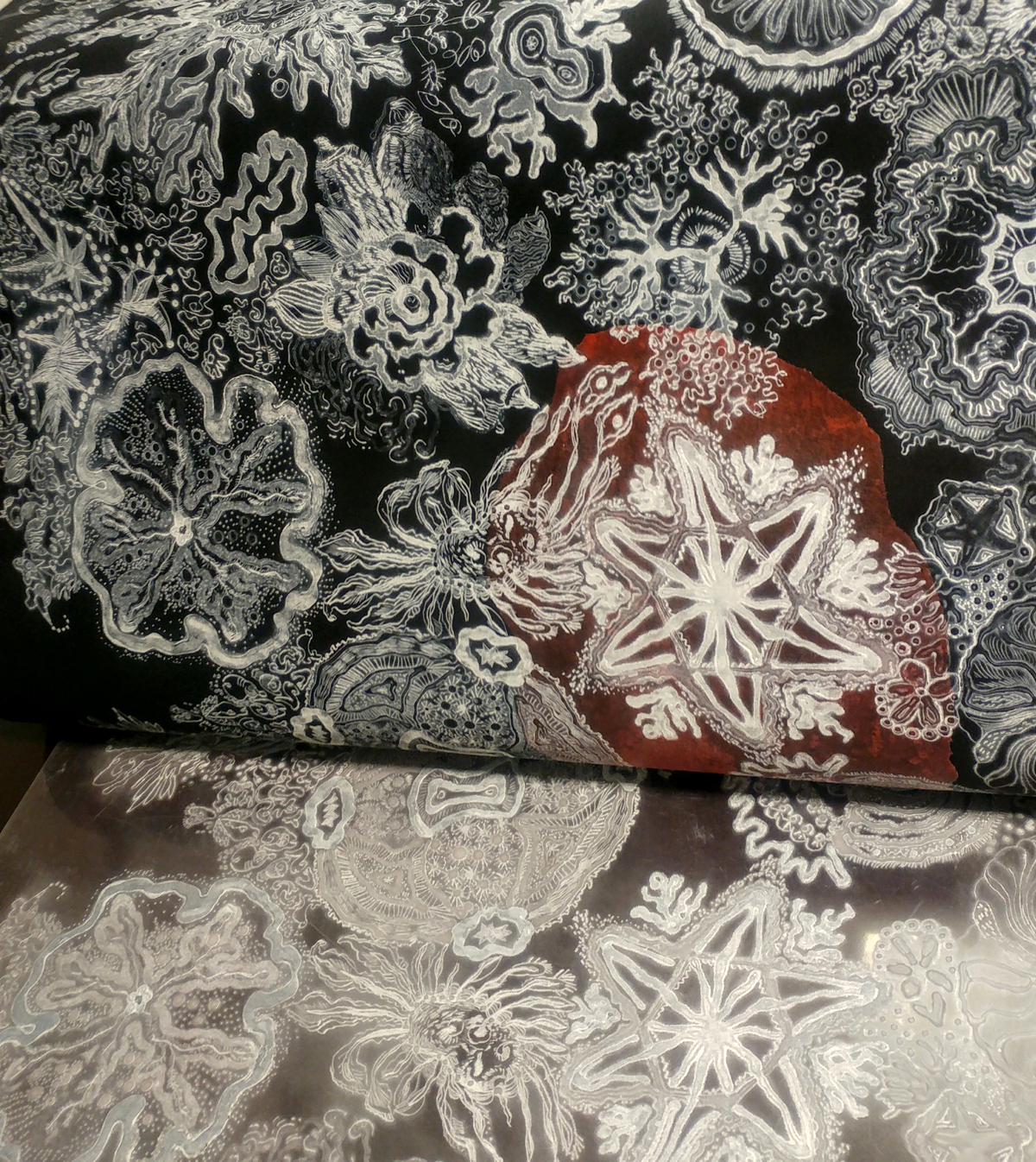 Below: The strength of Carborundum really stands out in black and white. Adding colors by use of chine collé will change the mood of your image. You start a journey exploring the possibilities.
Artwork (70 x 100) cm.
I hope this introduction inspired you. And as I said initially, fall is here, and hopefully some unpredictable prints are waiting for me in my studio. This print "seeding" is directly inspired by my garden. I love the process from blooming to withering. Living in a country with very different seasons I will let my garden rest, and then when spring comes new life is awakening, influencing me as well.